Secondary Imagery
Digital photography has taken the once esoteric world of photographic image manipulation from the darkroom into the mainstream. Virtually anyone can alter his or her photos using computer software. The processes applied to digital files range from extremely simple to highly complex and technical. For me, it is simply another layer of the creative process of digital imaging.



Each image in the four series here ("Madness", "Spiraling Out of Control", "Reconstruction" and "Otherworld") was derived from one of my original photos—I think of it as "Secondary Imagery". I asked "How can I use the shapes and colors in this photo to create a new abstract image?" The process was simple but controlled in each case. The results were often quite surprising. And it was tons of fun!


Powered by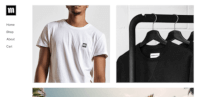 Create your own unique website with customizable templates.